Isolation Booths & Acoustics
Vocal Booths and Sound Isolation
We offer state-of-the-art portable vocal booths and sound isolation enclosures for the education sector and professional studios. Modular by design, the booths operate as an external standalone sound isolation solution or as an additional booth for an existing studio. The most common applications for an isolation booth include recording, voice over, broadcast, studio control, audio post production, drum isolation, rehearsal and meeting rooms.
Speak to us
Single or Double-Wall Design
Each isolation booth features a completely enclosed system including cable ports, active ventilation, optional windows and unlimited customisations. Available in a single or double-wall design, sizes range from 4′ x 4′ to 16′ x 16′. Our isolation booths are offered as a standard cuboid shape or a pentagonal design to maximise corner space and eliminate parallel wall problems.
Specs
Acoustics & Sound Proofing
Our dedicated audio team offer specialist advice, products and support for acoustic treatment and soundproofing. Whether you need internal treatment for music studios, post production, rehearsal spaces, broadcast or meeting rooms; we can evaluate what acoustics will be required to control the sound within any room and application.
Services include; onsite pre-analysis, CAD diagrams showing correct placement for suggested treatment, installation and sound design plans to integrate with existing systems. Also, if you are having problems with a noisy neighbour or need to reduce the amount of external sound within a room; we can help with construction plans for studio rebuilds and design.
Speak to us
DOUBLE WALL CONSTRUCTION ISOLATION BOOTHS;
Decibel Reduction Specs* (Accurate to +/- 3dB)
Frequency ( Hertz )
125
200
500
1,000
2,000
4,000
Reduction ( dB )
29
36
44
46
48
65
SINGLE WALL CONSTRUCTION ISOLATION BOOTHS;
Decibel Reduction Specs* (Accurate to +/- 3dB)
Frequency ( Hertz )
125
200
500
1,000
2,000
4,000
Reduction ( dB )
27
28
31
42
40
44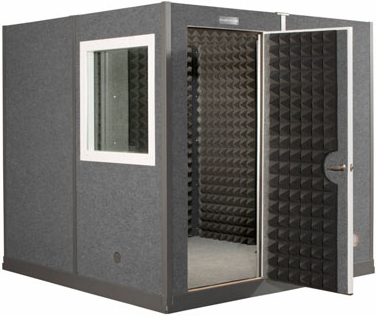 OPTIONAL CUSTOMISATIONS;
Door Windows
Door Color
1′ x 2′ or 2′ x 2.5′
Black, Camel, Brown, Blue, Red, Green, Gray (White Is Standard)
Wall Windows
Window Frame Color
3′ x 3′ or 6′ x 3′ (walls 8′ or larger)
Black, Camel, Brown, Blue, Red, Green, Gray (White Is Standard)
Interior Treatments / Colors
Exterior Colors
Black, Chestnut, Brown, Blue, Red, Green
High Capacity Output Unit
Heil Ceiling Mount Microphone Boom
Increases airflow of the ventilation systemVentilation Specs PDF
Space Saving Ceiling Mounted Microphone Boom
Hardwood Floor
Custom Heights
Maple Hardwood Floor – other wood available
Reduced or Increased Heights
ADA Compliant Door And Ramp
Caster Wheel Base
36″ Wide ADA Compliant Door and Ramp
Enhanced Mobility
Locking Door Handle
Custom Audio Jack Panels
Door Handle With Lock and Key
Built To Suit Your Needs (Standardcable ports are included)
We work with our clients to meet any custom isolation booth and acoustic treatment needs. Please contact our acoustics specialists on 01992 703900 or email audio@academia.co.uk
Speak with our specialists today ›